Empleos
Restoration Technician (Englewood)

Looking for a full-time experienced Restoration Technician. Proven fire/water restoration experience. Current industry certifications are a plus (IICRC). Looking to hire immediately! Must have clean driving record and pass background and drug test. Bilingual is a plus but Must speak fluent English.
Individual should have:
- fire/water/mold restoration (residential and commercial) experience
- after hour on-call rotation availability
- some weekends and nights availability
- ability to handle warehouse/equipment inventory
- self motivation and good work ethic
- professional communication skills
- professional appearance
Email or stop by our office and fill out an application– 2771 W Oxford Ave., Unit 2, Englewood, 80110.
Irrigation Technicians, Enhancement Foreman and Crew Leaders

We are now seeking  Irrigation Technicians, Enhancement Foreman & Crew Leaders for the Greater Denver area & Colorado Springs.
Recognized nationwide as a leader in landscape maintenance services, ValleyCrest Landscape Maintenance maintains some of the nation's most beautiful environments.  Enjoy an exciting career that gets you out from behind the desk and makes nature your office.  A career with ValleyCrest Landscape Maintenance provides exciting growth opportunities through mentorship and continuing education, plus the opportunity to work amongst the foremost experts in horticulture, floriculture, water management, and tree care.
We offer competitive pay and great benefits, apply in person today or for more information, please call our toll free number 1-800-760-0006 or the Regional Field Recruiter, Rene at 720-215-1879, rcalderon@valleycrest.com
Commerce City Branch
7065 E. 54th PL
Commerce City, CO 80022
303-288-2701
Need:1 Irrigation Tech, 1 Crew Leader         
Englewood Branch
2333 W Oxforad Ave
Englewood, CO 80110
303-761-9262
Need: 5 Irrigation Techs, 1 Enhancement Foreman, 1 Crew Leader
Parker Branch
8888 Montsenbocker Rd
Parker, CO 80134
303-841-8400
Need: 5 Irrigation Tech, 6 Enhancement Foreman
CO Springs Branch
7357 Cole View
CO Springs, CO 80915
719-448-9500
Need: 4 Irrigation Techs, 2 Crew Leaders
We our drug free and EEO by choice
www.valleycrest.com
Feria de Trabajo: El 26 de Febrero
Looking for a job that pays better than minimum wage and doesn't need you to work nights? Come to ALCC's landscape industry job fair Wednesday, February 26 at Summit Conference & Event Center in Aurora. On February 26 from 12 to 7 pm, landscape contractors will be interviewing laborers, irrigation technicians, equipment operators and supervisors. For more information on the landscape job fair go to alcc dot com.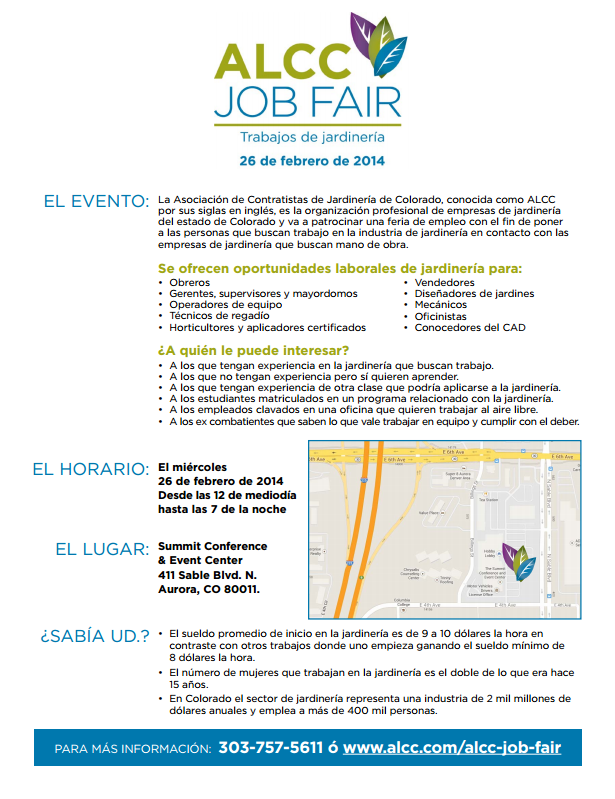 Account Service Representative – Metro PCS

Metro PCS esta en busca de representantes de ventas en el mercado de Denver! Metro PCS es una de los proveedores lideres de servicio 4g-lte ilimitado sin contrato anual. Hacen tu servicio movil mas simple con ofrecer minutos, textos y data ilimitado con todos los impuestos y cuotas aplicables incluidas! Los candidatos exitosos exceden los objetivos de ventas dentro de su territoria asignado. Los candidatos biligues son preferidos con las habilidades como comunicación efectiva entre un grupo diverso de negocios, influenciar a los demas, pensamiento critico y reportes claves que son importantes para la compañía. Si estas interesado en ser parte de una de las compañias de telefonia movil con mas crecimiento, aplica en metropcs.com en la seccion de carreras y busca account service representative en el mercadod de denver. recuerda, aplica en metropcs.com! te esperamos! En Metro PCS todos tienen una voz! Apoyamos fuertemente la diversidad en el trabajo y Metro PCS es un empleador con igualdad de oportunidad.
Hood Cleaner
NATIONWIDE FIRE PROTECTION CORP
5711 E. EVANS
DENVER, CO
Must have: DRIVERS LICENSE
Must be: FLEXIBLE
Must:  SPEAK some ENGLISH
Cannot have: FELONY RECORD WITHIN PAST TEN YEARS
Must have: SOME KNOWLEDGE IN CLEANING EXPERIENCE OR PRESSURE WASHING IS HELPFUL.
Mike Shaw Subaru – Personal Bilingüe para el área de ventas

Mike Shaw Subaru está buscando personal Bilingüe para el área de ventas!
Mike Shaw Subaru, uno de los principales concesionarios Subaru de Colorado, está buscando ampliar su equipo de ventas. Estamos en busca de consultores de ventas, entusiastas y motivados que hablen español.
Beneficios de Mike Shaw Subaru:
Semana laboral de 5 días, horarios flexibles y NO DOMINGOS
6 de los 7 gerentes actuales han sido promovidos del departamento de ventas.
Apoyo de gerencia para ayudarte en el inicio de tu nueva carrera
Mike Shaw Subaru ha operado por más de 15 años, con una gran reputación en la comunidad. Si esta oportunidad es algo que te interesa, aplica hoy mismo!
Habilidades / Requisitos:
Debe hablar Español
Excelente comunicación y habilidades de comunicación interpersonal
Positiva, proactiva y profesional
Debe tener historial de manejo limpio
Debe pasar chequeo de antecedentes criminales y exámen de drogas
Mike Shaw Subaru is looking for Bilingual Sales Professionals!
Mike Shaw Subaru, one of Colorado's premier Subaru dealerships, is looking to expand its sales team. We are looking to hire motivated, enthusiastic sales consultants who are fluent in Spanish.
Mike Shaw Subaru benefits:
5-day work weeks, flexible schedules and NO SUNDAYS
6 of 7 current managers have been promoted from the sales floor
LOW PACK / daily spiffs available
Management support to help you get started in your new career
Mike Shaw Subaru has been owned and operated for over 15 years with a great reputation in the community. If this opportunity is something that interests you, apply now!
Skills / Requirements
Must speak fluent Spanish
Outstanding communication and interpersonal communication skills
Positive, proactive and professional
Must have a clean driving record
Must be able to pass a background check and drug screen
Oven Operator, Deck Oven, Baking Pizzas
Family owned and operated Pizzeria, Quebec & 23rd St. Area, Park Hill, Denver
Position: Oven Operator, Deck Oven, Baking Pizzas
Hours: Tues, Wed, Thursday, Sun.  5:00 pm to 8:30 pm
Friday and Saturday 4:30 to 9:00 pm Closed Mondays
Experience: Some kitchen experience: Experience with pizza deck type ovens a plus
Staff meal provided daily
Pay rate: commensurate with experience
Tony at 303 507-6797 or tuva123@msn.com
Professional Housecleaners – Colorado Housekeeping Services
Looking for Professional Housecleaners
Part Time and Full Time/ Daytime Work Hours
MUST have a car, auto insurance and a valid driver's license.
MUST be bilingual
Starting pay $10.00 per hour
Mileage pay
Incentives and bonuses after 1 year
Opportunities to Advance
Denver Metro Area
Call to set up a time to fill out an application. 303-423-6406
Bilingual Volunteers at the Denver Museum of Nature and Science

Denver Museum of Nature & Science is looking for bilingual and bi-cultural volunteers!  Volunteers help welcome the community and interact with guests as they visit the Museum's many exhibitions on space, dinosaurs, wildlife, culture, and health, as well as the Discovery Zone for young children and our upcoming temporary exhibitions such as MythBusters: the Explosive Exhibition and Maya: Hidden Worlds Revealed. Volunteers also help Museum staff behind the scenes with the Museum's research and collections and with programs designed specifically for school groups. We truly value each of our volunteers, and there is a place for you too. Find out more at http://www.dmns.org/join/volunteering/
Yeseros (Plasterers) y Latilleros (Lathers)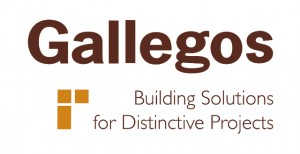 The Gallegos Corporation busca Yeseros (de 3-5 años de experiencia) y Latilleros (2-3 años de experiencia) para trabajar en  el área de Denver. Necesitamos trabajadores de inmediato! Se requieren herramientas. Ofrecemos sueldos y beneficios competitivos. TGC es un empleador con igualdad de oportunidades de empleo (EOE). Se habla español. Para enviar su solicitud por internet: www.gallegoscorp.com/employment o para más información llame al 1-800-Gallegos.
Full Job Description:
Título del trabajo:         Maestro Yesero- Plaster
Estatus FLSA:              Por Hora
Lugar:                          Area de Denver
Se reporta al:               Superintendente y/o Mayordomo
Sumario de la posición:
Un maestro de plaster aplica capas de plaster y/o estuco en los interiores de paredes, techos y muros de edificios para crear superficies terminadas. También se le requiere que haga el trabajo acatando las normas de seguridad y calidad y debe cumplir con las especificaciones de productividad trazadas por el mayordomo o el superintendente.
Funciones esenciales del trabajo:
Participar y colaborar con el equipo de trabajo durante las reuniones diarias para cumplir con las metas trazadas de seguridad, calidad y productividad.
Dirigir a los ayudantes a mezclar el mortero y el plaster hasta alcanzar  la consistencia deseada.
Aplica plaster o estuco en paredes, techos, en cemento de 2 o 3 capas y en sistemas EIFS.
Aplicar plaster o estuco utilizando plato y llana y tener experiencia con la utilización de una regla dura y regla Darby para producir paredes rectas de 1/8" y 10 pies.
Instalar veneer de plaster de color en el interior y 2 o 3 capas de plaster tradicional de color lima.
Hacer que la primera base/capa se ponga áspera con un raspador  de alambre o de metal y asegurarse que se pegue bien para la aplicación de las siguientes capas de plaster.
Crear texturas decorativas y tener experiencia con texturas múltiples.
Instalar las piezas de plaster precast ornamental aplicando mezcla atrás de las piezas y presionando las piezas en su lugar en la pared o el techo.
Otras tareas son asignadas por el Gerente del Proyecto
Funciones adicionales:
Instalación de alambrado cumpliendo con todos los códigos del edificio y con los requisitos del trabajo.
Cualificaciones:
De 3-5 años de experiencia equivalente y/o educación técnica.
Requisitos:
Amplio conocimiento de materiales para plaster y estuco.
Debe tener herramientas para plaster y herramientas para alambrado (si hace la instalación de alambrado).
Atención a los detalles con exactitud y minuciosidad demostrada.
Ahorrar en materiales y cumplir con la productividad trazada por los supervisores.
Observar todos los procedimientos de seguridad, reportar condiciones potencialmente inseguras, utilizar y dar mantenimiento al equipo y conservar los materiales apropiadamente.
Ambiente del trabajo:
Las características del ambiente de trabajo descritas aquí representan las circunstancias que el empleado enfrenta mientras lleva a cabo las funciones esenciales de este trabajo. Acomodaciones razonables pueden ser posibles para que las personas con discapacidades puedan cumplir con las funciones esenciales del trabajo. El empleado está expuesto a lo siguiente mientras realiza las tareas de este trabajo:
Mover partes mecánicas/equipo como sierras, montacargas y vehículos
Condiciones climatológicas incluyen calor extremo o frío
Trabajar en lugares altos y precarios como andamios y escaleras
Humos o partículas aéreas, químicos tóxicos o cáusticos
Riesgo a descargas eléctricas
Vibración
Cargar material pesado
El nivel de ruido en el ambiente del trabajo es usualmente alto.
Requisito físico:
La demanda física descrita aquí representa los requisitos que el empleado necesita para poder cumplir con las funciones esenciales exitosamente. Acomodaciones razonables pueden ser posibles para que las personas con discapacidades puedan cumplir con sus funciones esenciales.
El empleado debe de levantar y/o mover hasta 100 libras regularmente y ocasionalmente levantar y/o mover hasta 120 libras. Habilidades específicas de visión incluyen percepción profunda. Regularmente se le requiere al empleado que este de pie, utilice sus manos para sostener, agarrar o sentir movimientos repetitivos; alcanzar con las manos y brazos; escalar, balancearse y encorvarse, hincarse, agacharse o gatear, incluyendo el trabajar de rodillas y manos por periodos largos de tiempo mientras realiza sus tareas de trabajo. Se requiere que el empleado camine, hable y oiga frecuentemente. Se requiere que el empleado se siente.ocasionalmente.
Herramientas requeridas:
Hawk
Llana- trowel
Margin trowel
Float for basecoat
Varilla de 4' y 6' -rod
Cinturón de herramientas para hacha con martillo para alambrado, pinzas para cortar alambre, martillo y cinta de medir (western slope).
Pala para tina (plaster interior)-Bucket scoop (Interior plasterer)
Herramientas para las esquinas de interior (plaster interior)- Inside corner tools (interior plasterer)
Cuadro exterior (plaster interior)- outside square (interior plasterer)
Bullnose corner tools (interior plasterer)
Herramientas ornamentals (plaster interior- ornamental tools (interior plasterer)
Sales Person – Len Lyall Chevrolet
Len Lyall Chevrolet esta contratando para la posicion de ventas.
La posicion incluye:
90 dias de garantia
Beneficios de salud
Semana con 5 dias de trabajo
La mejor commission en la ciudad
Oportunidades de ventas
Aplica en persona con Jerry o Mawny o llama al 303-344-3100
Len Lyall Chevrolet is looking for sales people. Job includes:
90 Day Guarantee
Health Benefits
5 Day Work Week
Best Commissions in Town
Leads Provided
Apply in Person to Jerry or Manny or Call 303-344-3100
Len Lyall Chevrolet Inc
14500 E Colfax Ave, Aurora, CO
(303) 344-7186
lenlyallchevrolet.com
Representante de Ventas
Companía en expansión está buscando vendedores para productos de alta rotación con ventas yá establecidas dentro del mercado Hispano e Internacional en Colorado.
Requisitos y Ofrecimientos principales:
- Entusiasmo y Ganas de trabajar duro además de buena educación
- Experiencia en Ventas, Numeros y Computadores
- Disponibilidad para viajar al menos 2 semanas al mes fuera de Denver, dentro de Colorado
- Disciplina y Organización
- Ofrecemos salario por comisión sobre ventas yá establecidas, la oportunidad de alcanzar un bono extra, Seguro médico a través de Kaiser Permanente completamente gratis, Vacaciones pagadas + uso de Carro y Celular de la Cía.
**Las personas interesadas, favor enviarnos su resumé al fax # 303-962-1129**
Bilingual Sales Consultant – Ed Bozarth Chevrolet
Ed Bozarth Chevrolet, Colorado's #1 Chevrolet dealer, is looking to add 12 new bilingual sales consultants to their team! Ed Bozarth Chevrolet is looking for bilingual sales consultants with a proven track record of success. Whether your experience is in military, law enforcement, food service – if you've got the drive and the skill, you will love being a part of Colorado's #1 Chevy team. Successful sales team members have highly competitive income potential and enjoy a fast-paced, customer-focused work environment with incredible growth opportunities. If you're ready to start your new career, call Kent Bozarth directly at 303.870.7777 today – that's 303.870.7777!
Se Solicita Pastelera
Empresa en expansión necesita Pastelera o Pastelero con los siguientes requisitos:
- Conocimiento básico en repostería
- Bilingüe
- Creativa
- Iniciativa Propia
Technical Support Specialist
TECHNICAL SUPPORT SPECIALIST FOR REGIS UNIVERSITY
DUAL LANGUAGE CAMPUS AT THORNTON 
JOB DESCRIPTION
Provides technological support to staff, faculty and students. Identifies, researches, and resolves technical problems. Manages telecommunications network for the Campus.
MAJOR DUTIES AND RESPONSIBILITIES
•    Develops and implements IT systems, procedures and controls.
•    Manages enterprise-wide infrastructure of hardware, software, LAN, and telecom systems.
•    Maintains back-up systems for software and data in secured onsite environment.
•    Develops and implements IT maintenance procedures.
•    Controls the access to the computer labs and verify student compliance with rules and policies established for its use.
•    Performs equipment maintenance.
•    Provides technical support to administration, faculty and students.
•    Complies with the established Performance Management System and with reports requested by the Executive Director and CTO or other offices related to the site.
•    Assists the Executive Director in the development and coordination of IT plans.
•    Maintains open communication with the Executive Director and CTO related to technical issues.
•    Maintains and correctly manage confidential information in accordance to FERPA regulations.
•    Performs other relevant duties and responsibilities assigned by the supervisor.
REPORTS TO
Chief Technology Officer/Executive Director
QUALIFICATIONS
•    Associates Degree in Information Technology and equivalent work experience.  MCSE, A+, CCNA/CCNP, OCP are a plus.
•    One (1) year of previous Help Desk experience a must.
•    Experience with communication equipment and wireless networks.
•    Willing to work in a dynamic environment.
•    Excellent communication skills in English and Spanish (verbal and written).
•    Knowledge and experience in relevant computer applications such as MS
Office, Windows XP Professional and Windows 2000.
•    Must possess the ability to be a team player and interact with a wide variety of customers with varying degrees of technology needs.
SPECIAL CONDITIONS
•    Available to work flexible schedule including nights and weekends, when necessary.
•    Available to travel in or out of the United States for trainings, conferences or meetings.
Interested candidates must submit their resumes with evidence of academic preparation (diploma) to resumeDDL@agmusventures.com
Harrison School District Two – Administrator Position Job Description
Harrison School District Two Administrator Position Job Description
Title of Position: Community Relations Administrator – Support Supervisor
Directly Responsible to: Public Information Officer Assignment Period: year-roundQualification/Certification Requirements Bachelor's degree in Marketing, Mass Communications, Public Relations, Advertising, Business, or related field of study.
A minimum of five years work experience in a related field such as public relations, marketing, promotions, community relations and parent involvement, volunteer programs and fund development. Demonstrates skills in written communication, oral presentation, and program planning and organization. Experience in working with the public and communicational media in providing information and interpreting programs. Demonstrates knowledge of local media, schools, community issues and governmental processes.
Must be bilingual in Spanish.
Proficiency with Adobe Photoshop, Adobe InDesign, Adobe Illustrator and other multimedia software a preferred and is a plus.
Ability to develop and implement an active District plan for community, parent and student engagement. Strong organizational, excellent speaking, public relations and event management skills. Ability to work on several projects concurrently and to positively engage staff and community in efforts.
Commitment to the philosophy of a multi-cultural, multi-ethnic environment. Experience working with diverse populations.
General Description The Community Relations Administrator is responsible for developing and implementing an annual plan of community engagement which positively engages the external community (parents and stakeholders) in the mission of the District, as well as serving as the District representative for community oriented functions and activities. Works cooperatively and directly with appropriate District personnel as well as city, state, community representatives and District parents in the implementation of programs designed to improve the public image of and community and parent participation in Harrison School District Two.
Ethically and objectively promotes the district's mission and governing values with the public interest in mind.
Specific Responsibilities
Strategic Planning and Leadership/Vision: Develops and continuously monitors a District plan of community engagement. Organizes and develops a district-wide volunteer program for parents and District stakeholders. Performs quantitative and qualitative research in order to assist the Public Information Officer with developing a community-wide campaign to expand "academic privilege." (W, 30%)
Stakeholder Engagement: Develops and builds strategic relationships with organizations and community leaders and recruits them to become District stakeholders. Seeks purposeful connections with minority associations. Builds strategic alliances with key constituency groups whose work and missions are aligned with the District's Community Relations priorities. Develops and adapts a strategy as appropriate. Facilitates meetings with recruited stakeholders and the Board/Superintendent/District leadership by tracking feedback, questions, dialogue, and follow-up of meetings. (W, 20%)
Programs – Parent and Community Engagement: Manages the development and execution of strategies to enhance and promote the District's volunteer program in the schools and in the community by developing outreach initiatives (activities and events) at the District and school level. Manages all tasks related to the volunteer process (applications, background checks, notifications) Partners with local stakeholders across all lines of business in the development and execution of those initiatives. (W, 30%)
External/Internal Communications: Serves as spokesperson and advocate for community relations and community involvement, both internally and externally. Shares/presents information on Community Relations programs and policies to high-level audiences as needed. Advises the Public Information Officer on public opinion as well as district and community engagement efforts. Assists in the planning of periodic polling of internal and external publics regarding District issues or current issues in education. (M, 30%)
Volunteer Coordinator Management: Manages and mentors 15-22 volunteer coordinators in the development and implementation of District engagement plans and helps them address obstacles to successful execution of the volunteer program at their school. Monitors and reports Community Relations progress towards stated goals and objectives as well as department-wide goals and objectives. (W, 20%)
Budget: Manages and aligns the community giving budget with community engagement plan. (M, 15%)
Event Coordination and Support: Organizes and coordinates one volunteer recognition event per year; Coordinates special community and parent events and workshops (10 to 12 per year in English and Spanish); Provides planning supports for major District functions (two stakeholder events and one all-staff event per calendar year) (M, 30%)
Graphic Design: Creates, edits, and produces Community Relations promotional materials and publications such as flyers, signs, brochures, postcards and artwork for program branding (M, 25%)
Translation Support: Translates District forms and publications from English to Spanish for District and school level communications. (As needed, 15%)
Other: Performs other duties as may be assigned by the Public Information Officer, Superintendent and the Board of Education (As needed, 10%) Key: W: Weekly Q/A: Quarterly/Annually M: Monthly